Luz Station Tour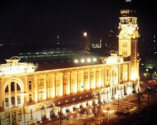 Luz Station: Inaugurated in 1901. The São Paulo railway head office was established there. Luz Station or (Estação da Luz), soon became the main point of arrival for many immigrants who had the city as their destination. It is located at the heart of the metropolis, in the same building that houses the Portuguese Language Museum. In the course of the years the Luz station lost its luster due to the replacement of trains by faster and cheaper means of transportation. After being recognized as part of the national heritage in 1996, Luz Station went through a set of refurbishments and turned out to be revitalized.
Today it's a fabulous building that pays to be visited.


Book Now
In order to get a quote of transfers, city tours, events and others, please fill out the form below to get a reply within 1 hour.


All credit cards are accepted