Lookout Valley Building Tour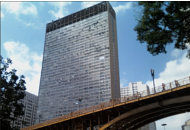 Lookout Valley Building (Edificio Mirante do Vale). This skyscraper is currently the tallest building in São Paulo and the second tallest in Brazil.
Although the building is the tallest in the city, it is not the highest. The Banespa and Italia buildings are located in higher areas of the city.
The building Mirante do Vale is located at a lower point of the city in a valley, however the building also offers spectacular views over the city.


Book Now
In order to get a quote of transfers, city tours, events and others, please fill out the form below to get a reply within 1 hour.


All credit cards are accepted